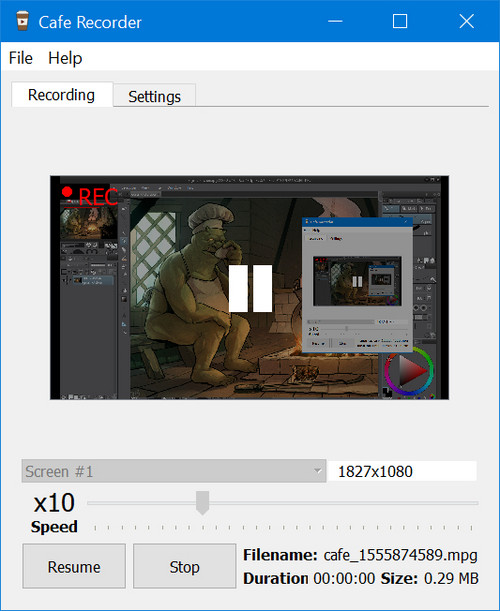 Thanks to the fact that I've moved this project's hosting to itch.io, i've finally started to see a couple of sales after years of it being online for free with an empty tip jar.

Because of this, I've managed to carve some time for it and and spent all morning trying to fix a couple of issues and removing some buggy features, in hopes that the program will be more stable now.
Here's a short list of what I changed in this small patch:
- added ability to resize the program window
- removed ability to record in x1 speed, as that was only for testing purposes and not what the program is intended for. This caused some crashes, so hopefully now that it's gone that's one less type of crash.
- removed the buggy and hacked together feature of manually selecting a recording area. This had too many bugs and crashed the program too often. In the future I'll try to add a way to record a specific window instead.
- updated the way the screen preview works, hopefully there should be less cursor flicker and crashes with this now.
Of the remaining known bugs, the biggest is probably regarding the check for updates action. It stopped working when I switched my host to work exclusively with SSL (HTTPS) and I couldnt get it working again for now. This'll be something I'd like to be able to work on in future.

Files
cafe-recorder-1-0-2.zip
31 MB
Apr 21, 2019